China technology company's browser blacklisted 996.ICU, The 996.ICU project is an anonymous project established on Github. The name of the project is a popular work system in the IT industry in mainland China in recent years: 996 means working at 9:00 on weekdays, 9:00 pm, noon, and at noon.
China technology company's browser blacklisted 996.ICU
A one-hour (or less) break in the evening, a total of more than 10 hours, and a working system that works 6 days a week. The name is very vividly described as long as you enter the ICU every day in the morning and evening of 996, which is a very real reflection of the reality that many employees are overworked in the workplace under the modern overtime system.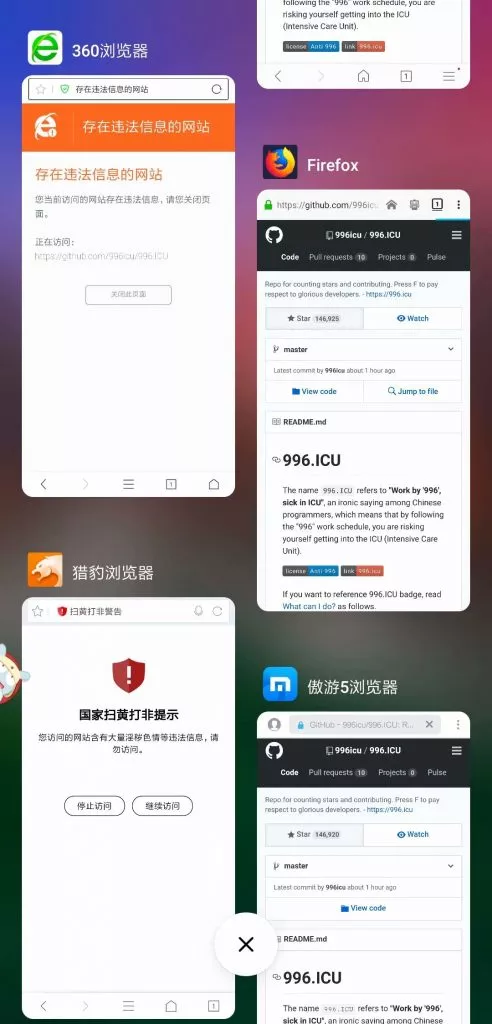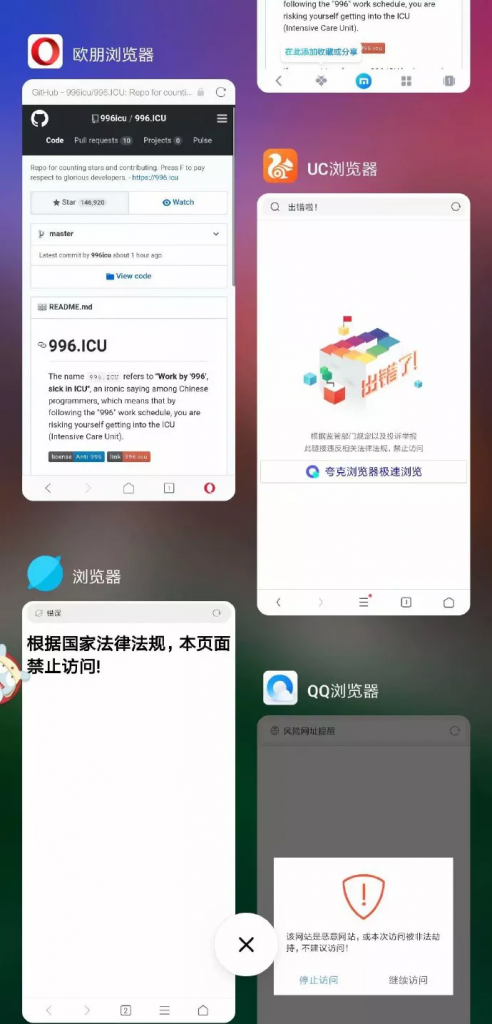 The Labor Law of the People's Republic of China has repeatedly stressed that the extension of working hours under conditions that guarantee the health of workers is not more than three hours per day, but not more than thirty-six hours per month.
Many domestic IT companies are forced to work overtime in order to achieve performance, labor compensation, and performance-based wages. Moreover, since the implementation of this work system by enterprises in 2010, especially in the recent downward trend of the economy, there are more enterprises that require employees to provide free overtime as a corporate culture, which is a serious violation of the labor law. In the middle of several laws, some companies are not even ashamed to be proud of it.
On April 2nd, "China Youth Daily" titled: The young man trapped by "996" is like a machine that sets the alarm clock. He published a paper to support the 996.ICU project. However, after the project has 150,000 Stars, some people have been working on the project. In the pull request, the request clearly indicates that several major IT vendors in China have blocked or marked the github project page of 996.ICU in their published browsers or security guards as illegal content.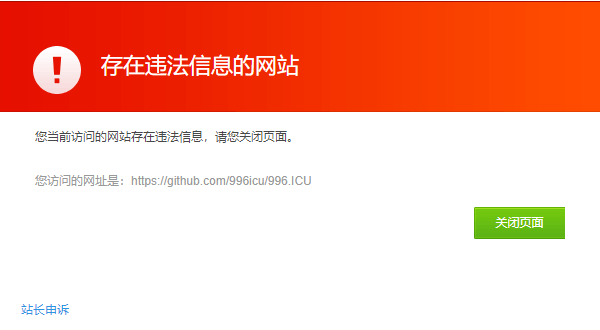 At present, there are netizens who test that the domestic mainstream browsers in China cannot access the 996.ICU pages normally. The mainstream browsers such as Edge, Firefox and Chrome are currently not affected.
Netizens reflect blocked connections: https://github.com/996icu/996.ICU/pull/24891
The China Youth Daily published relevant articles: http://zqb.cyol.com/html/2019-04/02/nw.D110000zgqnb_20190402_1-02.htm
ICU has a blacklist of clear evidence: https://github.com/996icu/996.ICU/blob/master/blacklist/blacklist.md