CelebrateCSEdWeek& 50 yrs of kids coding languages by checking out our VERY FIRST codingGoogleDoodle!
Google Celebrates 50 Years of Kids Coding Languages With a First-of-its-Kind Doodle
India Vs Ireland Live Cricket Score, 2nd T20I Match
Fernando reiterates the fact that while coding for kids might have sounded odd when it was first developed, today computers are an integral part of our lives, right from childhood. With this doodle, she hopes that millions of people around the world can and will have their first experience with coding. It makes me happy to think of all of the nine-year-olds who will get their first coding experience playing with todays Doodle, says Fernando. She adds that she hopes people will find this experience appealing and engaging enough to be encouraged to pursue it further.
Social Media Day 2018: Here Are Different Ways To Keep Your Data Safe
Google Doodle Celebrates 156th Birth Anniversary Of Fridtjof Nansen, Nobel Peace Prize Recipient And Norwegian Explorer
Best smartphones unveiled at CES 2018
Indian Bartender Gaurav Dhyani to Compete at World Class 2018 Competition in Berlin
Google Celebrates 50 Years of Kids Coding Languages With a First-of-its-Kind Doodle
Published Date: December 4, 2017 3:02 PM IST
Updated: December 4, 2017 3:06 PM IST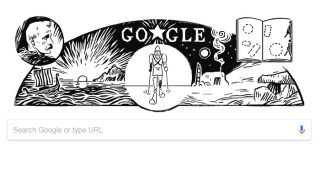 Google Doodles (@GoogleDoodles)December 4, 2017
Top 10 Google searches of 2017 on global scale
Naagin 2 Actress Karishma Tanna Looks Stunning in Red Saree, Check Drool Worthy Pictures
This Plastic Alternative Could Solve Pollution Problem
Flipkart Republic Day sale; best deals and discounts on smartphones to lure upon
Updated Date: December 4, 2017 3:06 PM IST
Punjabi Hotness Sonam Bajwa Raises Temperature With Her Latest Instagram Picture
Top 10 smartphones in India in November 2017
Hot and Bold Disha Patani in Grey Bikini is Setting the Internet on Fire, Check Pic
It was way back in the 1960s when Logo, the first coding language designed for kids, was created. While working on the programming language, a little green turtle would move around and draw lines on a black screen. However, at that time, kids programming on computers sounded impractical. Champika Fernando, Director of Communications, Scratch Team, stated, Long before personal computers, Seymour Papert and researchers at MIT developed Logo, which helped children to program the movements of a turtle, giving them the opportunity to explore ideas in math and science.
Google is celebrating 50 years of childrens programming language with a doodle. Todays Google doodle is the first-ever coding doodle by Coding for Carrots. The doodle which is a part of the Computer Science Education Week lets you have fun while learning to code along with what looks like a bunny rabbit. In this interactive doodle, users can program by helping the rabbit gather carrots by crossing six levels. The idea is to help the rabbit gather its favourite food, carrot, by snapping together coding blocks that are based on the Scratch programming language for kids. The Doodle was developed by three teams including the Google Doodle team, Google Blockly team, and researchers from MIT Scratch.
At Googles invitation, Fernando has written a detailed post on the history and importance of kids coding languages. She writes that like Logo, Scratch was developed at MIT by building on Paperts early ideas about kids and computers. Its designed to be less intimidating than typical programming languages, but just as powerful and expressive, she writes.