Trump tariffs and retaliatory tariffs are no big deal for Mississippi say key Republican leaders. Everything will work out, is their mantra.   Meanwhile, Trump tariffs kicked in June 1st on steel (25%) and aluminum (10%) imports from the European Union, Canada, and Mexico. Mexico imposed retaliatory tariffs on June 5th, Canada will on July 1st, and the EU will later …
OP-ED Another case of ill-informed pronouncements on education in Mississippi
Sweetie Pies may be next addition to Downtown Jackson restaurant scene
Associated PressJune 18, 2018Leave a comment
Mississippi high school merger hung up by lawsuit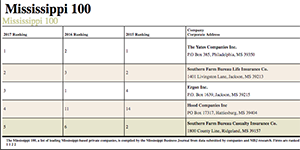 Hattiesburg Clinic Center for Sleep Medicine earns reaccreditation
TUPELO The Mississippi Department of Environmental Quality has told Tupelo hotelier and developer Bruce Patel that he has until the end of the month to correct issues the department found on a site visit last month to the Pinnacle Point development on North Gloster Street. Patels initial plans call for an $18 million investment in a senior living facility …
MBJ StaffJune 15, 2018Leave a comment
Forrest General Hospital in Hattiesburg has received the American College of Cardiologys NCDR ACTION Registry Platinum Performance Achievement Award for 2018. Forrest General is one of 203 hospitals nationwide to receive the honor. The award recognizes Forrest Generals commitment and success in implementing a higher standard of care for heart attack patients as outlined by the American College of Cardiology/American …
15th Annual Salute to Delta Honor Graduates held in conjunction with Delta Council Day
MBJ StaffJune 15, 2018Leave a comment
CPA Firms List (Largest)The 2017 list of the largest CPA firms operating in Mississippi. Ranked by number of CPAs.
RIBBON CUTTING: Chicken Salad Chick Flowood
MDEQ gives Patel June 30 deadline to correct issues
Broom joins Hattiesburg Clinic Heart Vascular
Fair Housing Acts 50th anniversary to be observed
For the MBJJune 18, 2018Leave a comment
Carroll named member of American Institute of Minimally Invasive Surgery
Associated PressJune 18, 2018Leave a comment
Reset a lost or forgotten passwordSubscribe to the MBJ now!Subscribe Me
COMMERCIAL FINANCE 701  Real estate loans HVCRE revisited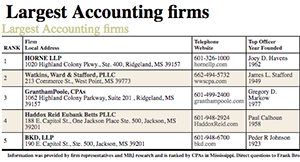 MBJ StaffJune 15, 2018Leave a comment
Mississippi Business Journal Mississippi Business News
McDonalds restaurants expect to hire 4,500 in Mississippi this summer
Two candidates in a Republican primary runoff for a congressional race in central Mississippi agree on many big issues, including their overall support for President Donald Trump. Michael Guest and Whit Hughes are both cautious in any criticism of the man in the White House. His use of social media would be something I would disagree with the president on. …
Butler Snow is pleased to announce that Rance Sapen has been named chief operating officer. Sapen has served as the firms chief financial officer for the past 14 years. As COO, Sapen will be responsible for providing administrative leadership and management to ensure the firm is positioned for further growth and long term success in the legal marketplace. Sapen joined …
Greenville could join list of cities allowing alcohol to go
The Mississippi Credit Union Association (MSCUA) held its annual meeting & convention on May 16-19, 2018, at the Beau Rivage Resort in Biloxi, Miss. Attendance included more than 600 credit union professionals, volunteers & guests. During the event, elections were held and the association board was announced. The twelve-member MSCUA Board represents the associations seventy-six member credit unions in Mississippi …
MCEE adds to its Board of Directors
Forrest General among nations top hospitals for treatment of heart attacks
BILL CRAWFORD Other states Republican leaders stand up to Trump tariffs
Alcorn ranked No. 7 on College Consensus list for 2018
Gabe Godbold has joined Renasant Bank as a private banker and financial advisor in Ridgeland. Godbold will be responsible for building relationships and assisting clients with their various financial needs. Godbold is a graduate of the University of Southern Mississippi with a Bachelor of Business Administration. Godbold enjoys golfing, hunting and fishing. He is married to Whitney of Madison, and …
Keith Coble from Mississippi State University has been named the incoming President-Elect for the Agricultural & Applied Economics Associations (AAEA) Executive Board. Coble says: We have both challenges and opportunities ahead of us. By working together [with the other board members], we can advance AAEA. Joining the Board of the Directors this year are Marc Bellemare from the University of …
Sweetie Pies may be next addition to Downtown Jackson restaurant scene
JACK WEATHERLY  What this country really needs
MBJ StaffJune 15, 2018Leave a comment
Associated PressJune 18, 2018Leave a comment
Visitors to the Coast Coliseum & Convention Center in Biloxi will soon be in for some new food. The Sun Herald reports that Levy Convention Centers will become the new food service provider as of July 1. Matt McDonnell, executive director of the Center, said Levy will invest $2.5 million in new equipment and venues. New concession stands, cafes and a VIP …
MBJ StaffJune 15, 2018Leave a comment
Pitbull to open Miami-themed lounge on Mississippi coast
2017 list of the top 100 private companies in Mississippi based on MBJ research. Information was provided by company representatives and other reliable sources and is ranked by total sales revenue.
Healthiest Workplaces in Mississippi
CEO Awards of Mississippi current winners
Gov. Phil Bryant is naming another retired military leader to run Mississippis Emergency Management Agency. The Republican Bryant on Monday said he was appointing Gregory Michel as the agencys director. Michel was the commander of Camp Shelby in Hattiesburg from 2015 to 2017. He retired from the Mississippi Army National Guard as a colonel, having joined the guard as a …
>