enough for computing and music lessons.to download with a friendlytutorial.community of over one million live coders.
Sam Aaron performed with Sonic Pi at Moogfest 2016. Rolling Stone featured his performance in theirreview of the festivaland said ittranscended the present.
University of Cambridge Computer Laboratory
compile Sonic Pi from source, but there are binaries ready for use in your Debian and Ubuntu package repositories, thanks to the Debian Multimedia packagers team.
See how easy it is to get started coding your first sounds…
Heres a taster of some of the exciting things happening in the Sonic Pi world…
Sonic Pi is anOpen Source Projectreleased under the MIT Licence.
The Big Bang Fair is the UKs largest celebration of STEM for young people. The Sonic Pi Band will perform a series of shows demonstrating how to live code your own band.
Sonic Pi was specifically designed for and built in collaboration with teachers for use in the classroom.
The Sonic Pi Live and Coding Project.
Sonic Pi is a new kind of musical instrument which enables exciting new learning pathways in the classroom.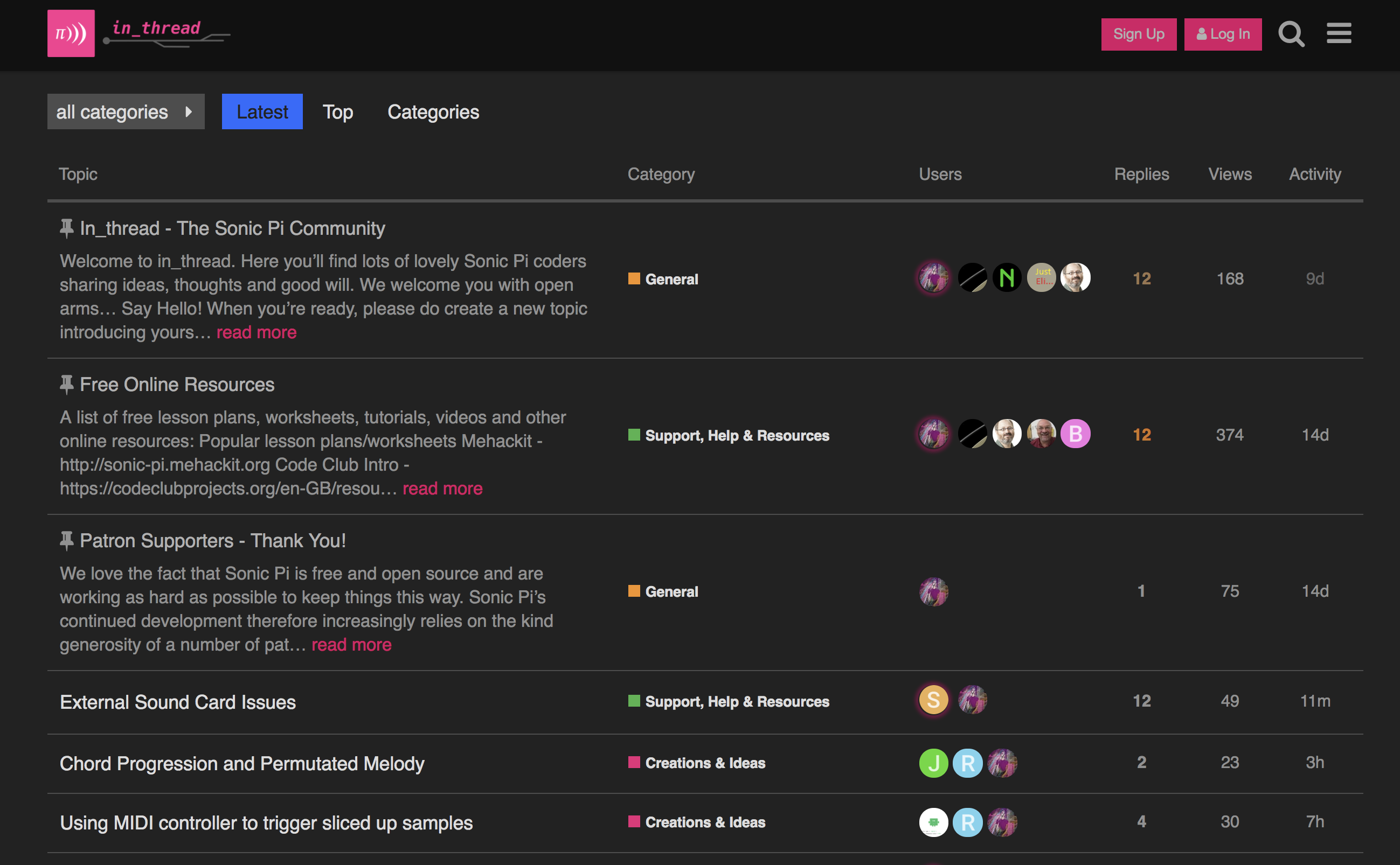 The Sonic Pi: Live & Coding project has launcheda series of 10 Pop Pi music videoscreated by artists using Sonic Pi.
Easily keep your Sonic Pi up-to-date via the Raspbian Package Manager:
Master live loops, code drum breaks, compose your own melodies make random riffs and loops, learn to shape and sculpt sounds and much, much more…
Sonic Pi Live & Coding – Summer School
–>
Arts Council Englandand generousPatreon supporters.
–>
Currently developed with kind support fromNorfolk & Norwich Festival Bridge,
Sonic Pi lowers the barrier to entry for a creative experience with code…
Coded by Sam Aaron Live at the NODE Festival in Frankfurt
Get started on the worlds most affordable computer.
Brought to you bySam Aaronand the Sonic Pi Core Team
Sonic Pi is represented by Sam Aaron on The Music Commission panel, a new enquiry launched by ABRSM exploring how to better sustain & support progress & progression in learning music.
Sonic Pi is an Education Partner for Convo, an ambitious new work at the Royal Albert Hall featuring 1,000 young instrumentalists singers combining traditional instruments code.
Sam Aaron, creator of Sonic Pi, has written this book tocomplement the built-in documentation.
Getting Sonic Pi running on Windows is as easy as 3, 1, 4…
Sbastien Rannou has published a tutorial on how he live coded his fabulouscover of Aerodynamicby Daft Punk.
Compiled for 64 bit architectures, Sonic Pi has been tested to run on OS X Mountain Lion through to macOS High Sierra.
–>
–>
Sonic Pi was designed, implemented and developed with extensive classroom trials in close collaboration with teachers.
Sonic Pi is available as a self-contained MSI installer for you to install on your machine or network.
–>
–>
Sonic Pi packageis in Debian Sid (Unstable), Debian Stretch (Testing) and Ubuntu 16.04. To install, just enter:
Download Sonic Pi v3.1.0 for macOS here.
Adding this PPA to your systeminstructionsthere.
Sonic Pi was featured on the UK national childrens news programmeCBBC Newsround- with presenter Jenny Lawrence discovering Live Coding for the first time.
Sonic Pi is available free(but we really need your help):
Sonic Pi is already pre-installed on Raspbian Stretch – the SD card image recommended by the Raspberry Pi Foundation.
Enter this exciting once-in-a-lifetimecompetitionto get your Sonic Pi music played onboard the International Space Station by UK astronaut Tim Peake.
Sonic Pi helps you engage students in Computing through music. Read how in the articleLive Coding Education
Getting Sonic Pi running on your Mac is as easy as eating Apple Pi.
Daft Punk – Aerodynamic by Sbastien Rannou
–>
Engage your students by coding music in your classroom today.
Watch this introductoryCAS TV interviewwith Sonic Pi creator Sam Aaron.
Sonic Pi is anew kind of musical instrument.Watch how you can use it for live performances from ambient sets to dance music in nightclubs…
The incredibleMehackitSonic Pi creative coding resource has been certified by the Finnish Education Standard Kakoa for its educational quality.
Google have announced Sonic Pi as one of a number of projects they either use or think are important.
Sonic Pi has been listed as a finalist for theMusic Teacher Best Music Education Product Awardalongside music instrument manufacturers Boss Korg.
Join thefriendlySonic Pi community and share your ideas and thoughts with othereducators,musiciansandlive coders…
Radio 1 DJ MistaJam and Live Coder Sam Aaron compose a piece of music using Sonic Pi, inspired by Bizets Carmen
Use the full power of your Mac to take Sonic Pi to the next level.
–>
In 2017, African and Finnish tech and education innovators collaborated to use Sonic Pi to deliver creative coding workshops engaging almost 2000 children in 10 African countries.
Artists Juneau Projectswrite about the recent Sonic Pi Live & Coding Summer Schoolwhich involved 60 children aged 10-14 learning to code and perform on stage at Cambridge Junction.
Sonic Pi has been built as a self-contained macOS app ready for you to download and launch.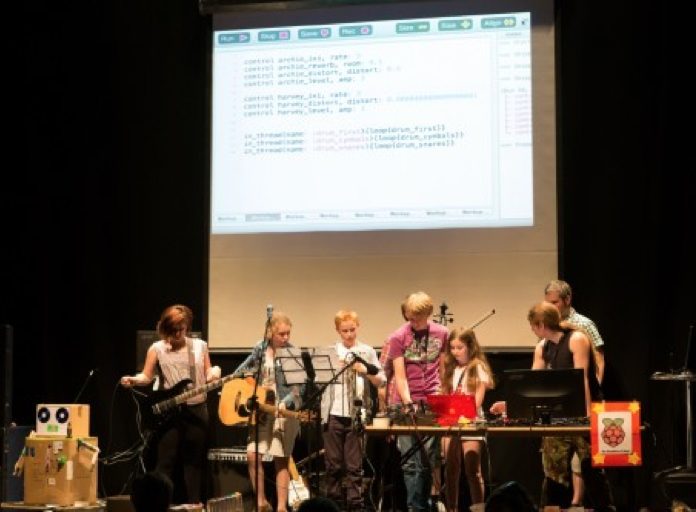 Just ensure you give Sonic Pi permission to run in the Security Preferences.
Sonic Pi v3.1.0 is compatible with Windows and works well with all versions of Windows from 7 to 10.
Choose one of the options for getting Sonic Pi. Its likely you already have it on your system, in which case fire it up and have fun!
The wonderful Naked Scientists covered Sonic Pi in an interview which was broadcast live on BBC radio and is available to listen and readhere.
What are you waiting for? Get yourself a copy of Sonic Pi for:
A portable version that will self-extract and run from a USB stick or folder. No installation necessary.
Learn to codecreatively by composing or performingmusicin an incredible range of styles fromClassical&JazztoGrime&EDM.
Sonic Pi Ubuntu PPA repositoryalways contains the latest stable release for Ubuntu 14.04 Trusty Tahr, 15.10 Wily Werewolf and 16.04 Xenial Xerus. –>
Sonic Pi comes with a scheme of work targetted for KS3 Computing developed in harmony with the new UK curriculum.
Turn any PC into a full Sonic Pi workstation.