A number of Chinese browsers blocked 996.ICU, Chinese programmers who provoke? Recently, Chinese programmers registered a domain name of 996.ICU and accused some Internet companies of the 996 work system. I hope this issue can be taken seriously to change the current state of the disease. As a result, the project was very resounding after the release of the project. As of press time, the site's corresponding GitHub project has received nearly 192,381 Stars.
Chinese browsers blocked 996.ICU
A few days ago, Chinese netizens found the site at risk of being censored. After users tested more than a dozen browsers in China, they found that many browsers have blocked the site and even the GitHub project of 996.ICU could not be accessed normally. This has stirred up another hot debate, and some people are angry: "Do you not uninstall these browsers?"
Let's first review this website that caused a huge storm: 996.ICU
996.ICU GitHub: https://github.com/996icu/996.ICU
996.ICU website: https://996.icu/#/zh_CN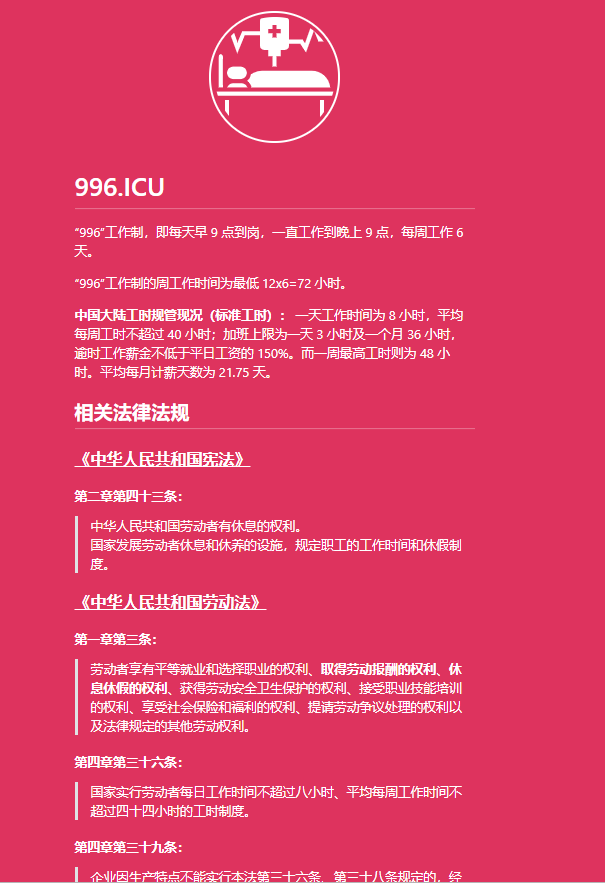 This website was built spontaneously by Chinese programmers, meaning "Every day from 9:00 am to 9:00 pm, working 6 days a week, the programmer will be admitted to the ICU if he is ill." The motivation for creating a website comes from the Chinese programmer's protest against the 996 working system that is generally adopted by most Internet companies. It is 9:00 am, 9:00, and 6 days a week. Under the 996 system, programmers. They work for a minimum of 72 hours a week, which is a serious violation of the 48-hour working hours prescribed by Chinese law, and the programmer's private time is seriously occupied.
However, although the law was written in black and white, most Internet companies did not practice the law at all, and some companies even openly encouraged the 996 work system. In the big environment, programmers can only be forced to accept the "hidden rules" of this industry. Therefore, when some programmers show more efforts than ordinary people, and even advocate that they should work longer hours, they are not diligently appreciated by them, but may be the disdain and dislike of their colleagues, because they have raised the enterprise. Expectation for them.
The 996.ICU website has criticized some companies that openly encourage the 996 work system, hoping to change the status quo of the programmer.
High attention does not bring change
The "resistance" of Chinese programmers has caused great repercussions. As of press time, the GitHub project of 996.ICU has obtained nearly 192,381 Stars, and foreign media are also competing to report.
However, will this event really improve the fate of Chinese programmers? Not necessarily, because in addition to causing discussion on the Internet, I have not heard that the relevant Chinese departments or companies have expressed the need to change the status quo. Instead, the domain name may face the risk of being censored, because it has been tested by netizens. A number of Chinese browsers have blocked the 996.ICU website.
Chinese browser blocked "996.ICU"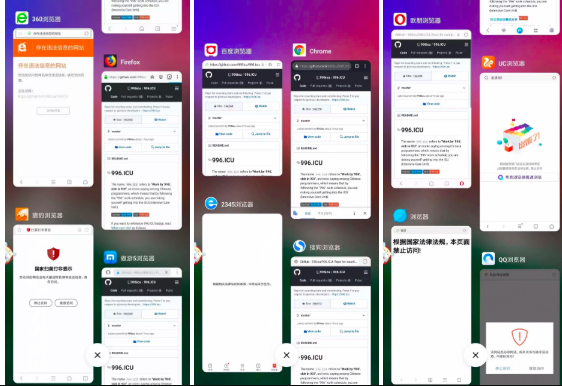 From the test screenshots, 360, UC, Cheetah, QQ, 2345 browsers, etc. have blocked the website and GitHub portal, and the Chinese IT technology companies behind them are also accused of encouraging employees to work 6 days a week. A company that does not give enough overtime pay and works 12 hours a day.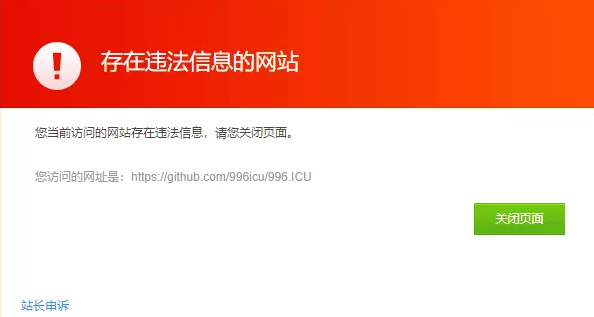 GitHub user ilaotan provides clues in the GitHub topic "360 Is this going to die?": When searching for the 996.ICU database on the 360 browsers, "There is illegal information on the website you are visiting. Please close the page" Such a warning.
The following is an excerpt from some users of the GitHub topic "360 is this to die?"
Emma looks like all domestic browsers have restrictions, some can not be accessed, some shielded stars.

At present, not only 360, domestic browsers are basically all-inclusive, including but not limited to Tencent (hand Q own WebView, WeChat WebView), quark browser, 360 browsers, other to be tested, welcome to add.

Fortunately, chrome is fine, still able to access it normally.

This is the result of several browsers sharing blacklists. I have always thought that as long as they are not certified by GFW, they are not the government's behavior, so these Internet companies really use the monopoly position to fool the people.

Chinese browsers blocked 996.ICU
Is it a review of individual companies?
Developers on GitHub said that they still use Chrome. However, some netizens said that they can access 996.ICU with 360 and Xiaomi's MIUI browser. Some netizens insist that most Chinese browsers cannot access them. Chinese browsers blocked 996.ICU
Some users claim that Tencent's QQ browser is strictly restricted to access 996.ICU, but users can still enter the page if they insist on clicking. However, a screenshot of a user shows: "This page has been discontinued. According to user complaints and Tencent Security Response Center, this page contains illegal or infringing content. In order to maintain a clean Internet environment, access is denied." Chinese browsers blocked 996.ICU
Actually measured by the AI ​​front line: At present, the 360 ​​browser will open the 996.ICU website and GitHub within a few minutes and will not be able to access the warning box; UC, Sogou, 2345, the browser can access the website, but GitHub can not access; QQ browser can Visiting the website, GitHub is listed as a malicious website, but can continue to visit; the Cheetah browser page is accessible, GitHub is prompted to scan the country for non-information, but can choose to continue to access.
As of now, no relevant companies have responded to the "blockade". Chinese browsers blocked 996.ICU
One source said that browser blocking the site may be a decision made by individual companies to cover up the criticism of the 996 work system, not a mandatory order because the block is only for a single page rather than a full domain name. For Chinese technology companies, it's a smart idea to block a single controversial GitHub repository from the browser level without affecting the GitHub platform. Chinese browsers blocked 996.ICU
"Because of the needs of the work, there are a lot of programmers in China who are using GitHub." Sarah Cook, the senior research analyst at Freedom House East Asia, explained, "Blocking specific projects through a browser may be a way to cool down the 996 debate. You can limit Negative impacts, while at the same time avoiding the losses caused by technological innovation caused by a comprehensive blockade." Chinese browsers blocked 996.ICU